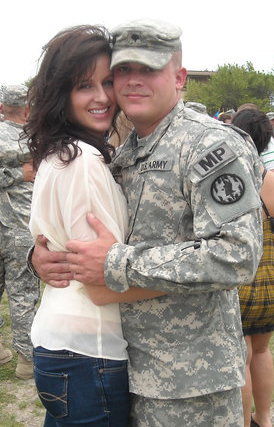 Hey there, do you love a good transformation as much as we do? We want you to love where you work and live, and we know how to transform your space so you will. Creative design solutions are our specialty and so is working within a budget. Give us your list of wants for your home and we can make it happen. Every one of our jobs is a family affair and we are so grateful for the opportunity to work with you!
-Jake and Chloe
Jake has been working in the construction industry since he was a teen. After a 5 year enlistment in the Army he came back to Mid-County and went back to work as a superintendent of residential renovations. In 2014 he and his brother founded Golmon Bros. Construction, and worked part time building decks and fences. In 2015 Golmon Bros. Construction became a full time job opportunity and the business has been growing ever since. Chloe joined the team full time in 2017 after the devastation of Hurricane Harvey, there were just too many houses for Jake to manage on his own. Now she and Jake manage the company and all of its projects on a personal basis.
From the slab (or piers) to the roof, we have the experience, skill and crew to get the job done right. We are Bonded and Insured and know the ins and outs of insurance claims and permit processes. When you work with us you are directly supporting families and businesses in South East Texas, we shop local as much as possible and we are committed to providing job opportunities in our community. From commercial to residential, from new construction to the sale of your home....we fix all the things.